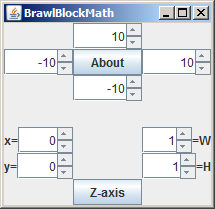 BrawlBlockMath
current version: April 26, 2013
Download (source code included in JAR)
This is a small program that will determine what size your Stage Builder blocks need to be to cover a certain area in your stage. If you change the boundaries, the X/Y and width/height values will be adjusted automatically, and vice versa.
You can click the Z-axis button to show/hide additional number fields for the block depth and Z translation.
This class is licensed under CC0: see http://creativecommons.org/publicdomain/zero/1.0/
To the extent possible under law, I have waived all copyright and related or neighboring rights to DisplayLicense.java. This work is published from the United States.