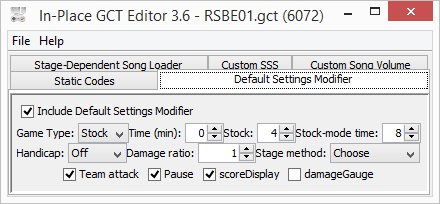 GCT Editor
current version: 3.7.1 (February 6, 2016)
Download (mirror)
Click on the screenshot to flip between the different tabs!
New in 3.7 and 3.7.1:
The program can now deal properly with custom song IDs (for the Custom Sound Engine) in the Custom Song Volume code.
.txt files are now exported Windows-style (CRLF).
This GCT editor's primary purpose is to export GCT codesets to text files, separating known codes into their own blocks. It can also directly edit certain codes for Brawl, with the capability to:
add/edit/remove instances of the Stage-Dependent Song Loader by Oshtoby
add/edit/remove the Default Settings Modifier code
view/remove the Custom SSS code or the Custom Song Value code (only one of each will be detected)
enable/disable certain static codes, listed in static_codes.txt (a normal text file)

This file will be created (with a list of common codes) if it doesn't already exist
GCT Editor can open and save in GCT (raw) and TXT formats. There are two options for TXT output: you can separate codes that the program was able to identify, which will have the side effect of rearranging the codes in the file, or you can export the whole GCT as one long code.
This program is available under the GNU General Public License, version 2 or later. Source code is in the JAR file.
There is NO WARRANTY. You should probably back up your files before editing them.